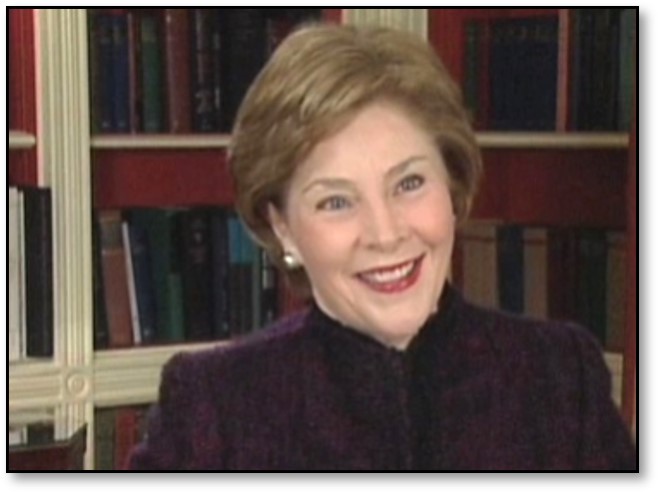 Over the years, many prominent people had nice things to say about American Heritage Magazine, which was a familiar feature in the libraries of America's leading thinkers and doers for over half a century.
The week before she left the White House, First Lady Laura Bush sent us a letter about the magazine. "My family subscribed to this marvelous publication when I was a girl," she wrote. "I vividly remember the special shelf of white hardback volumes and how we eagerly awaited each new issue."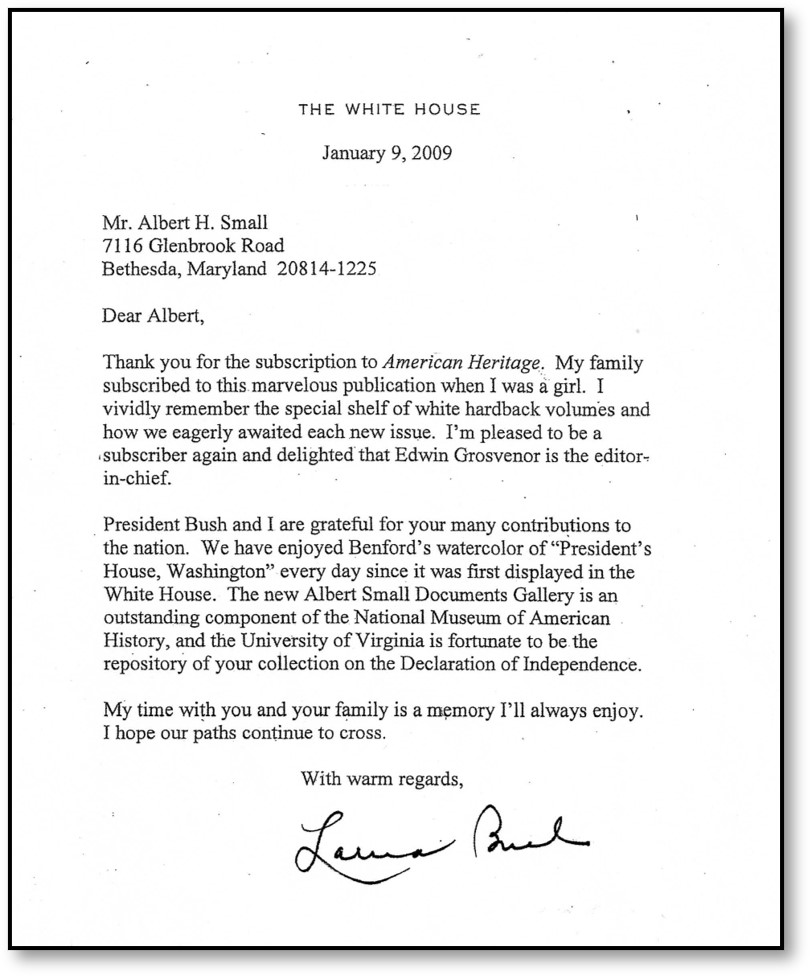 "American Heritage is everything a magazine of popular history should be – elegant, lively, informative, entertaining, and intelligent."
          —Arthur Schlesinger, Jr.
"I know no other publication that regularly reports so entertainingly on our past and tells so well the story of our wonderful history."
          —Walter Cronkite
"A nation's history is its memory, its identity, the embodiment of its values and its sense of self-worth. A society that knows its heritage has the faith to face its future. I know of no other publication in the world that captures the vitality of a nation's history as well as American Heritage does. It is an extraordinary magazine."
          —Henry A. Kissinger
"I am delighted to recommend American Heritage to anyone looking for an enjoyable reading and learning experience."
          —President George H.W. Bush
"I have been a regular reader of American Heritage for what must be close to twenty-five years. It always has something I like, something I did not know before, something I am glad to know about. I hope it goes on forever."
          —Barbara Tuchman
"American Heritage is the only magazine I keep. I can't imagine being without it."
          —Walter Lord
"American Heritage is an American treasure. It enriches the present every bit as much as it enlarges and enlivens understanding of our past. I challenge anyone to read six issues – by God, a single issue! – to see if you don't find yourself thinking just a bit differently, and a little more, about America. And all of this without a trace of ideological or partisan purpose."
          —Sen. Daniel Patrick Moynihan
"It deepens our understanding of America's past, and makes learning about that past a pleasure."
          —William S. Paley
"American Heritage does a superb job in reminding us of the glorious tradition which is ours…"
         —David Rockefeller
"From every issue I find I learn things well worth knowing.… Nothing is rarer, moreover, than the combination of serious enlightenment and consistent enjoyment."
          —Joseph Alsop